Looking for a hassle-free way to celebrate a special occasion? Introducing the Mini Party in a Box!
Our Party in a Box has everything you need to create an unforgettable get-together in one convenient package. Inside you'll find a 4-inch cake that is baked to perfection, along with 8 matching cupcakes that are sure to delight your guests all for just $85. Choose one of our well-loved flavours, including Vanilla or Chocolate Salted Caramel, High Tea (Honey Lavender), Strawberry Matcha, Mocha, Vanilla Strawberry, Lemon Raspberry, or Chocolate Bailey's. Serving up to 12 guests, this treat is ideal for birthdays, bachelorettes, baby showers, or any special occasion! Our Party in a Box is a convenient and stress-free way to enjoy a celebration with your loved ones, wherever the party takes you. Having a bigger party? No problem, add on a box of cupcakes for $55/dozen and let us take care of the sweetest part of your gathering!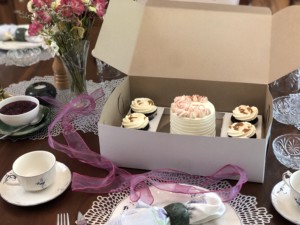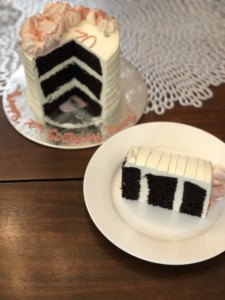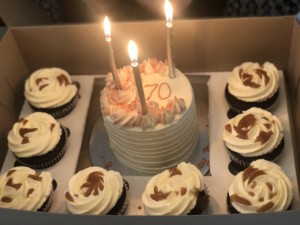 Mooch will always try to be part of your celebration- big or small, however due to the bespoke nature of our cakes, there are limited spots available and tend to book up quickly and in advance. 
PLEASE NOTE: FORMS ARE REQUESTS AND ARE NOT CONFIRMED ORDERS UNTIL MEGAN HAS VERIFIED AVAILABILITY AND RECEIVED PAYMENT. 
NOT TO WORRY, SHE WILL LET YOU KNOW WITHIN 24 HOURS OF RECEIVING YOUR REQUEST.
Mooch is located on West 4th Avenue in the beautiful West Point Grey area (just one block East of Alma). Cake pickups are as contact-free as possible by using time slots by appointment. Please send Megan a text when you're about 5-10 minutes away, so all you'll need to do is pull up out front and she'll pop it in your car! Cakes are chilled to help you with transportation and will come to room temperature on location. Our cakes are at their best when the buttercream is at room temperature and cuts like soft butter (YUM!).