Each Cake Tasting Box is completely customizable, choose 2 or more flavours from the menu to enjoy in the comfort of your home. Each 4″ Mini Cake serves up to 6 (or 4 generous portions), perfect for sharing with your wedding party or friends.
Not planning a wedding but still want a tasting box? No problem, happy to oblige. Tasting Boxes are great for dinner parties and providing different flavour options for birthdays!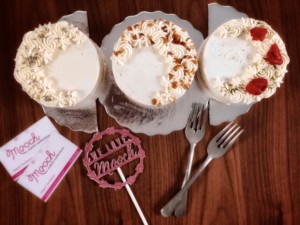 Mooch often books up in advance since Megan makes all of our goodies with love, which means they are mixed by hand and only in small batches. Cake Tasting Boxes are available monthly on select week days and weekends with pick up times between 11am and 6pm. The next Cake Tasting dates are: June 16-18th (Father's Day Weekend) and July 5-9th. If these dates do not work for you, a Cake Tasting Box may be accommodated for a different date.
Mooch is located on West 4th Avenue in the beautiful West Point Grey area (just one block East of Alma). Cake pickups are as contact-free as possible by using time slots by appointment. Please send Megan a text when you're about 5-10 minutes away, so all you'll need to do is pull up out front and she'll pop it in your car! Cakes are chilled to help you with transportation and will come to room temperature on location. Our cakes are at their best when the buttercream is at room temperature and cuts like soft butter (YUM!).
With the picturesque Jericho beach right around the corner, add-on compostable cutlery to enjoy your Cake Tasting Box al fresco!
Duo $85, Trio $130, Quartet $170